The yield on deposits
from June 15, 2022 to December 15, 2022 was
Kazakhstan stocks (KASE index)
from June 15, 2022 to December 15, 2022
in annual terms raised by
The annual yield on dollar
deposites
remains at the same level of

Dollar-denominated bonds and ETFs
based on dollar-denominated bonds
have yields of

Where do we get this data from?

As of December 1, 2022, the annual inflation rate was
19,6%
with food inflation at
24,1%
.
As of December 15, 2022, deposits with partial withdrawal in banks offer up to
14,5%
per annum. Thus, the deposit income only covers inflation.

Dollars are depreciating by
7-8%
per year due to inflation.
Dollar deposits in Kazakhstan offer an interest rate of
1%
per year. Therefore, deposits do not even cover dollar inflation.
This is how inflation is growing in Kazakhstan

Shares denominated in tenge on the KASE exchange (KASE index) grew by
21%,
from June 15, 2022, to December 15, 2022, which is equivalent to an annual yield of
42%
.
(https://kase.kz/ru/shares/)

The dollar-denominated stocks (S&P500 index) increased by
11,18%
from June 16, 2022, to December 1, 2022, which is equivalent to an annual return of
24,3%
.
Dollar-denominated bonds on KASE are traded with yields up to
10%
per annum. Dollar-denominated ETFs and bonds on foreign markets yield up to
15%
per annum.
Investments are much more profitable than deposits!
Investments help you save up for education, travel, a new car, a house in Spain, retirement, and anything else you may want. The earlier you start investing, the faster you will reach your financial goal.

Investing is not only about making profits.
Why should entrepreneurs invest?
When an entrepreneur starts a new project, they should compare the following:

What is more profitable??
Put the money intended for project investment into a bank deposit
OR
Invest in the project and receive net profit (minus expenses)?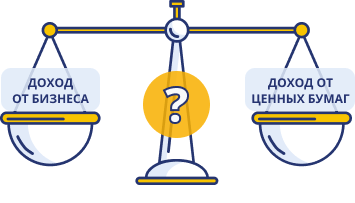 If the expected net profit is higher than the income from the deposit,
then the entrepreneur should compare the net profit amount with the income he could have received from investing in securities (ETFs, stocks, bonds).
A broker
can help determine the potential return on invested money. The return depends on the amount, duration of investment, and risk appetite of the entrepreneur.
This approach can be applied not only to commercial projects but also to the ideas of entrepreneurs or ordinary citizens for generating income from buying real estate and then renting it out.

It is necessary to compare the profit of house renting for a year (minus expenses for repairs and other expenses) with the income from investing in securities. If you want a small business like a neighborhood grocery store, a small doner kebab shop, etc., always compare the expected net profit with the profit from investing in securities. This will help identify the effectiveness of your project.
What to start with?
If you've decided to start trading on the stock exchange, it's important to understand that you should only invest funds that you can afford to lose. Never invest borrowed funds. Before using a new gadget, you usually try to read the user manual first. Similarly, we recommend that you first read popular books about the stock market, such as William J. O'Neil's "How to Make Money in Stocks" Then, we suggest that you talk to brokers and seek their advice to determine your investment amount and investment period.
There are several stages:

Choose a broker based on the "measure twice, cut once" principle. Talk to consultant brokers and you will understand with whom you will be comfortable doing business in the future.

Once you have decided on a broker, prepare a copy of your identification document. You will be asked to fill out an account card and questionnaire. A purchase order for opening an account, a broker agreement, and possibly other documents will be prepared for you.

Next, you will need to fund your brokerage account using the payment details provided to you. Always monitor the real-time changes in quotes and prices of financial instruments. This can usually be done using trading platforms.

We recommend starting trading on the Kazakhstani market and then moving on to foreign markets. Look at the price statistics of the financial instrument you like and what it reacts to (news, seasonal factors, etc.).

It's important to look for the optimal moment to buy or sell a security. This is not always easy and requires attention to details. Don't forget to consult with brokers or traders, as traders with technical analysis expertise can help you identify the entry and exit points of a security.

Once you have developed your strategy, try to stick to it consistently.

Control your emotions. With more experience, it will become easier to manage your emotions. However, at the beginning stages, it's important to constantly remember and control your emotional state. "Don't put all your eggs in one basket" - diversify your portfolio.
Have you made a choice?
Open an account and buy
Opening a brokerage account
(step 1 of 4)
Or message us on WhatsApp
+7 (777) 033 19 76